Pasta al Forno, an oven baked pasta with a creamy and cheesy sauce, is delicious and easy to make. This step by step recipe gives you detailed instructions on how to prepare this classic Italian dish.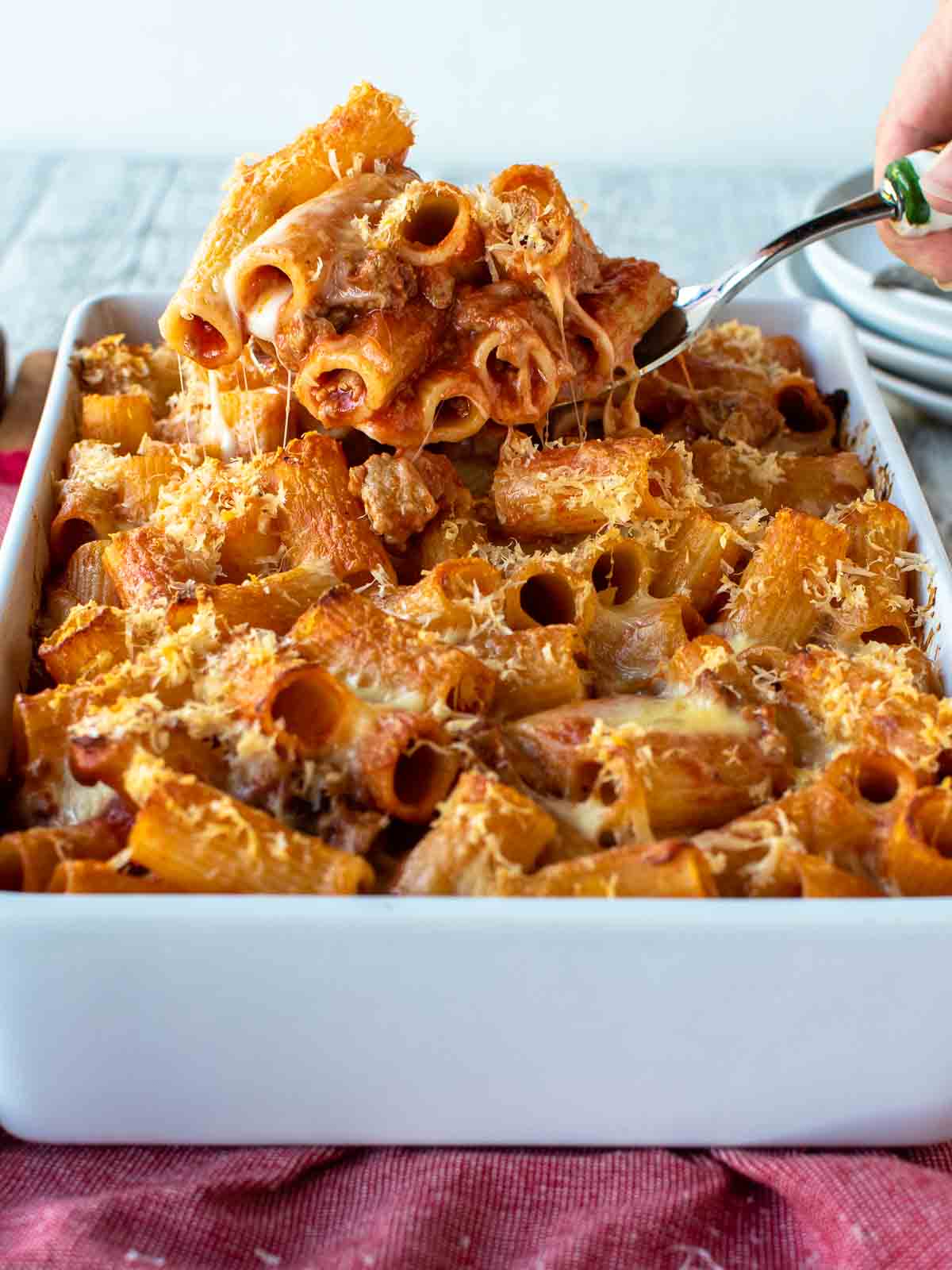 If you love hearty, comfort food that is rich in flavor, you've come to the right place! My Pasta al Forno is incredibly tasty and satisfying but not difficult to prepare at all. Follow this recipe for complete success!
Pasta al Forno is simply a pasta bake but I can safely say this one is an extremely good version. There are many variations in Italy and it was one of my favorite meals when I was growing up. My mother's version was similar to lasagna while my cousin makes hers filled with extra goodies like hard boiled eggs and tiny meatballs.
My variation of this pasta recipe begins with a homemade meat sauce using ground pork, Italian sausage and tomato puree. Then barely cooked pasta and two flavorsome cheeses are combined with the sauce before baking. The key to this recipe though, is the addition of pasta water which creates creaminess almost like magic!
Perfect for parties and buffets because this is a dish that can be prepared in advance and baked just before serving. Traditionally Italian families, like mine, serve this baked pasta on Sunday for lunch followed by a meat course like butterflied chicken or Italian chicken cutlets. On special occasions, I make cannoli cake or ricotta pie for dessert.
For a Pasta al Forno which is never dry or mushy, use my recipe. This is the goldilocks of pasta recipes because it's perfectly creamy, perfectly flavorsome and perfectly cheesy. Make this your go-to baked pasta recipe!
For complete ingredient quantities and full instructions, please scroll to the printable recipe card bottom of the page.
Ingredients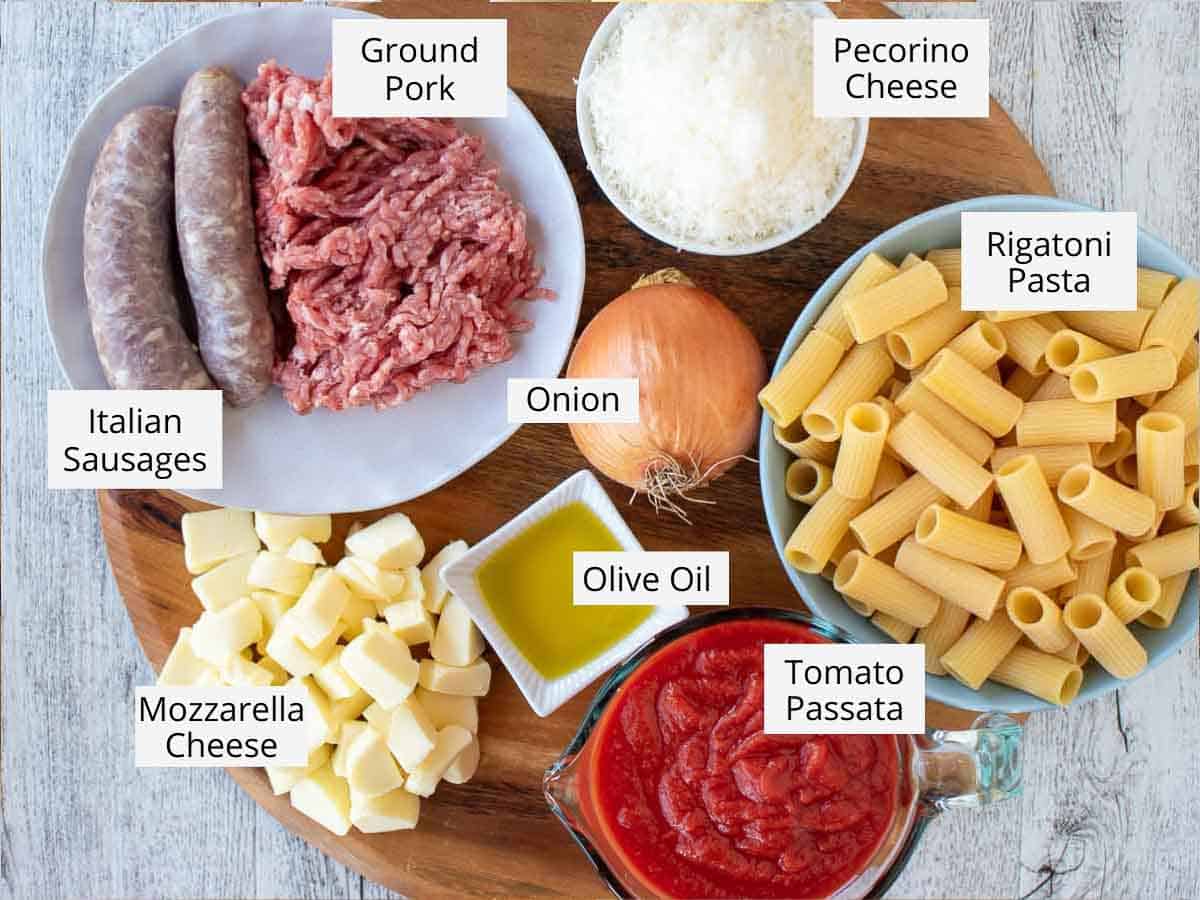 Rigatoni pasta - always look for good quality pasta. That doesn't necessarily mean expensive. ​​Look for durum wheat semolina pasta that says "bronze die cut pasta".
Olive oil - regular olive oil gives great flavor to all Italian pasta recipes. You can use extra virgin olive oil if you prefer.
Onion - white or brown onion is excellent and give a sweetness to this meat sauce.
Ground pork - buy good quality ground pork that has some fat in it.
Italian sausage - these are sold fresh and are made of pork and seasonings like fennel, anise, garlic and other spices.
Tomato passata - this is just pureed tomato that has been strained of seeds and skins. I buy the Mutti brand which is a thick tomato passata but choose the brand you prefer.
Mozzarella cheese - you should grate your own cheese. Avoid the pre-grated cheese because it contains preservatives to prevent clumping and this also means the cheese won't melt as well.
Pecorino Romano cheese - again grate your own cheese unless you have a good delicatessen that will grate it freshly for you.
Salt and freshy ground black pepper - be sure to taste the meat sauce and season well with salt and pepper. It's also important to salt the pasta water well.
See recipe card for quantities.
Instructions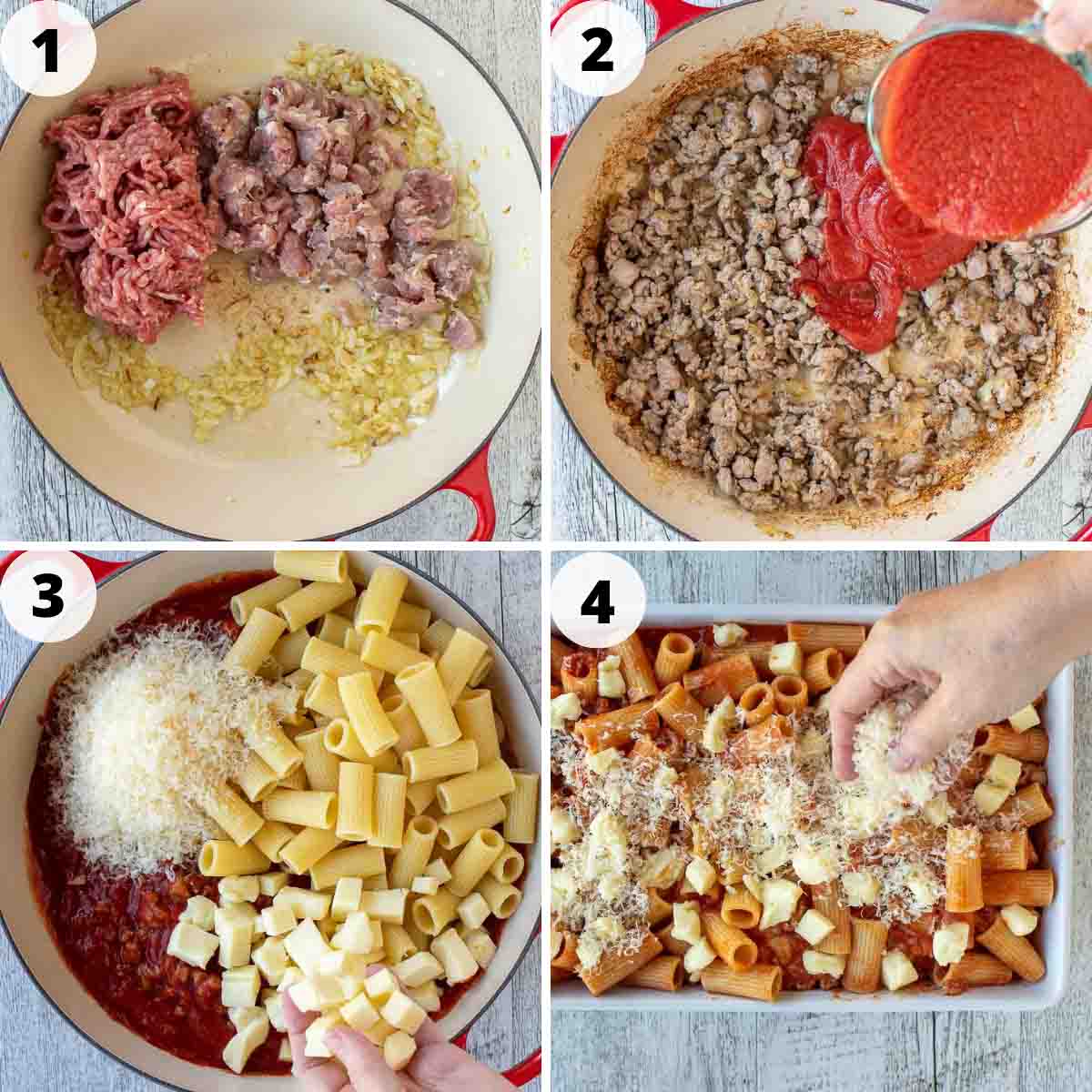 Fry onion until golden then add skinned and crumbled sausage and ground pork. Fry until browned.
Add tomato passata, reduce the heat and simmer partly covered for 30 minutes. Season to taste.
Cook the pasta but drain when very al dente, reserving some cooking water. Combine pasta, mozzarella cheese, pecorino cheese and cooking water into the sauce.
Tip into baking dish. Sprinkle on extra cheese and bake 320ºF/180ºC for 25 minutes.
Hint: be sure to taste the sauce and season well with salt and freshly ground pepper. Don't forget to salt the cooking water for the pasta!
Substitutions
Italian sausage - use any quality sausage that you like the taste of. Quality is the key here. Don't buy a sausage that's full of fillers like breadcrumbs and other starchy products.
Spicy - add red pepper flakes to the sauce to introduce some chili heat into the dish.
Cheese - use smoked scarmosa or other smoked cheeses instead of mozzarella to give the pasta that wonderful wood smoked taste!
Pasta - you can use other types of short pasta like ziti or penne. Any tubular pasta especially if it has ridges is really good. Avoid long thin pasta like spaghetti or linguini.
Variations
Southern Italian - add sliced hard boiled eggs and tiny fried meatballs when combining the meat sauce with the cooked pasta.
Vegetarian - leave out the sausage and ground pork. Add a couple of minced garlic cloves when frying the onion then proceed to make a simple tomato sauce and complete the recipe
Kid friendly - omit the pecorino if your children don't like strong tasting cheese. Use a milder cheese to complement the mozzarella. I find most children don't mind Parmesan but you know your children best and what they like to eat.
Gluten free - use your favorite gluten free pasta and gluten free sausages to make this a gluten free pasta dish.
Equipment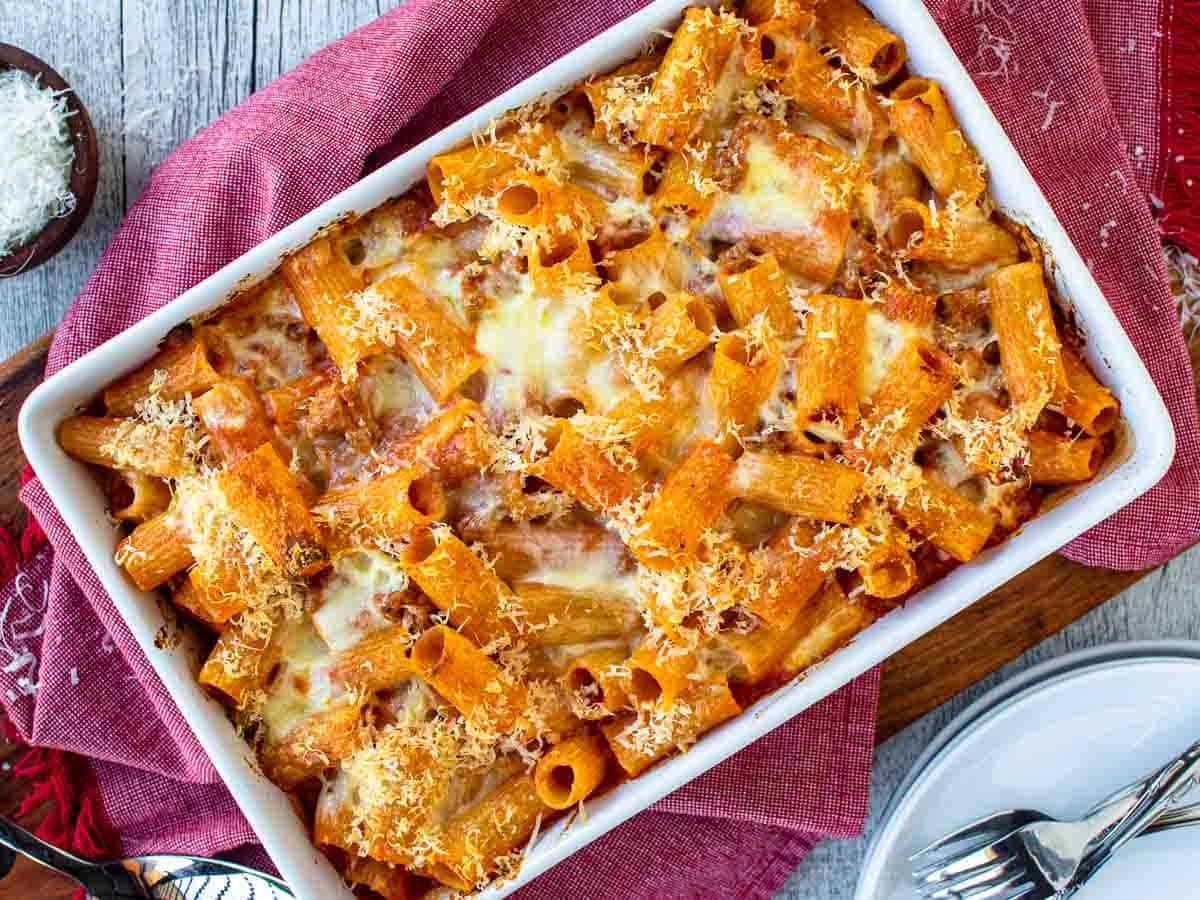 To bake pasta al forno, you'll need a 12 cup capacity baking pan. I usually use an oblong oven proof dish measuring 8 x 12 inches (20 x 30 cm). However, I've also baked it directly in the large skillet I use to prepare the pasta sauce.
You'll simply need a pan or dish that is large enough to comfortably fit all of the pasta and sauce without spilling as it cooks. Keep in mind that if the dish is too large and the pasta is spread out, it'll lose moisture and become dry.
Storage
Leftovers can be stored in the fridge for 3 or 4 days and reheated in the microwave.
If you want to make this in advance, The sauce can be made in advance and frozen for up to 3 months. Just thaw and reheat to continue with the recipe.
Freezing pasta al forno can be a problem. After thawing and reheating, it can be overcooked and soggy. However, freezing serving size portions has better results. Use small resealable plastic bags and be sure to remove all of the air. Use within 2 months.
Tips for success and FAQ's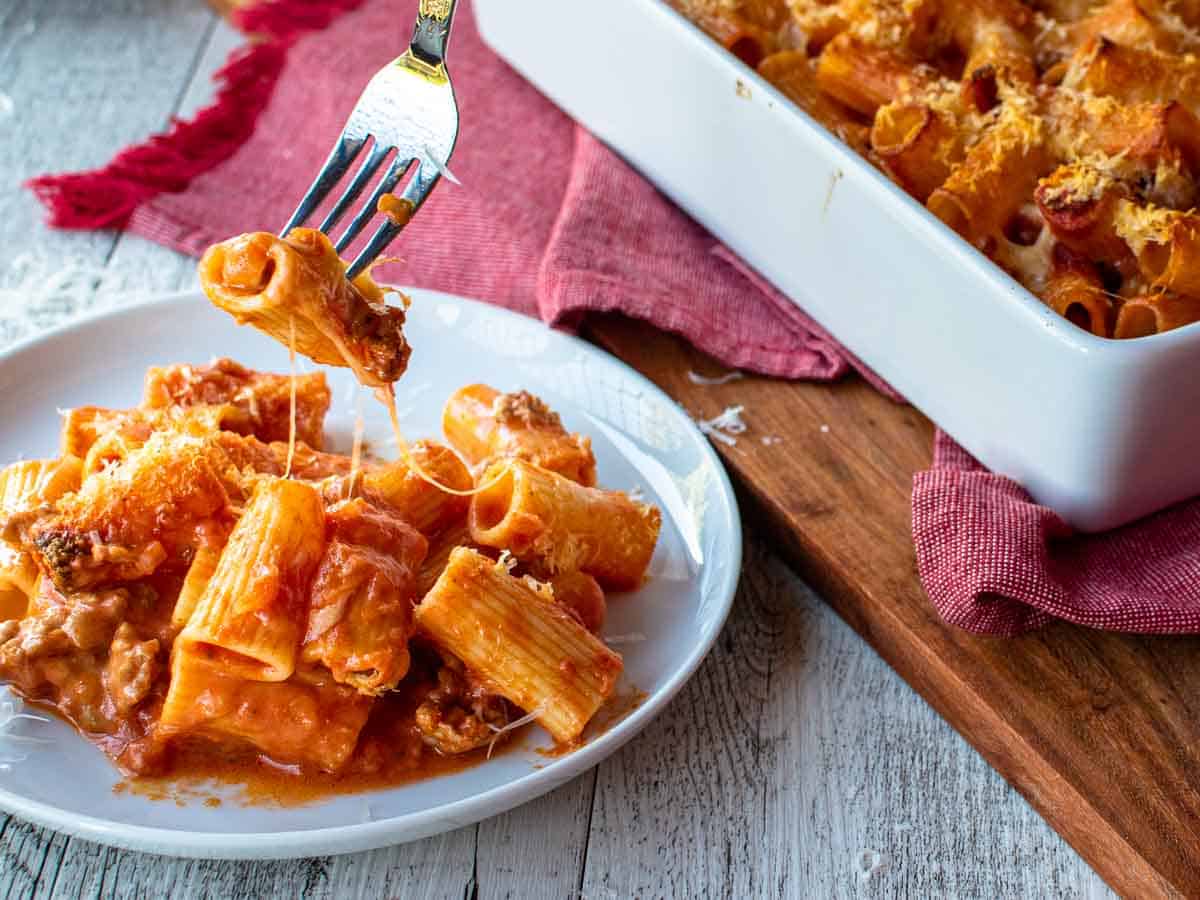 Be sure to salt the pasta cooking water very well. What I mean by that is in a large pot put two or three heaped tablespoons. If necessary, taste the water. It should taste salty.
For a successful pasta bake, you need to undercook the pasta because it will keep cooking in the oven. Check the package instructions for cooking and reduce the cooking time by 3 minutes.
It's super important for the success of this recipe to reserved at least two cups of the cooking water. This is what will make your Pasta al Forno creamy without the addition of cream or a besciamella sauce (Italian white sauce). You'll need a cup or more of reserved cooking water to combine with the pasta and sauce.
What does al forno style mean?
"Al forno" simply means "from the oven" in Italian. Any food that's baked or cooked in the oven might be labled in this way. There are many recipes for pasta, vegetables, meat and seafood cooked in the "al forno style" in Italy.
Can you make pasta al forno ahead of time?
Yes! Assemble and refrigerate 24 hours in advance then bake as in the recipe. You may need a few extra minutes because the pasta will be cold when it goes into the oven.  If possible, remove the finished pasta dish from the fridge 30 minutes beforehand. 
The sauce can be made in advance and frozen for up to 3 months. Just thaw and reheat to continue with the recipe.
When cooking pasta what does al dente mean?
Al dente when cooking pasta means that the pasta is just tender and cooked through with no chalky whiteness in the middle but it's still firm to the bite. The opposite is soft, overcooked pasta that doesn't hold it's shape. Pasta cooked al dente has a lower glycemic index and the surface has a more rough texture so it holds the sauce better than overcooked pasta.
Where is pasta al forno from?
Pasta al forno originates in the regions of Calabria, Campania, Puglia and Sicily in Italy. However, it's now found throughout Italy with varying ingredients and forms.
Serving suggestions
A side of garlic bread is always welcomed with Pasta al Forno. I know it's gobbled up quickly at our home.
We also like to have a refreshing salad on the side. Something like cherry tomato Caprese salad or this mediterranean cucumber salad are always appreciated.
Whichever way you serve Pasta al Forno, I know you'll love it and this recipe will become a regular on the menu!
More recipes like this
Made this recipe?
Let me know if you liked it by leaving a ★★★★★ star rating and a review below. Please share a photo of your creation by tagging me on Instagram @marcellina.in.cucina!
Recipe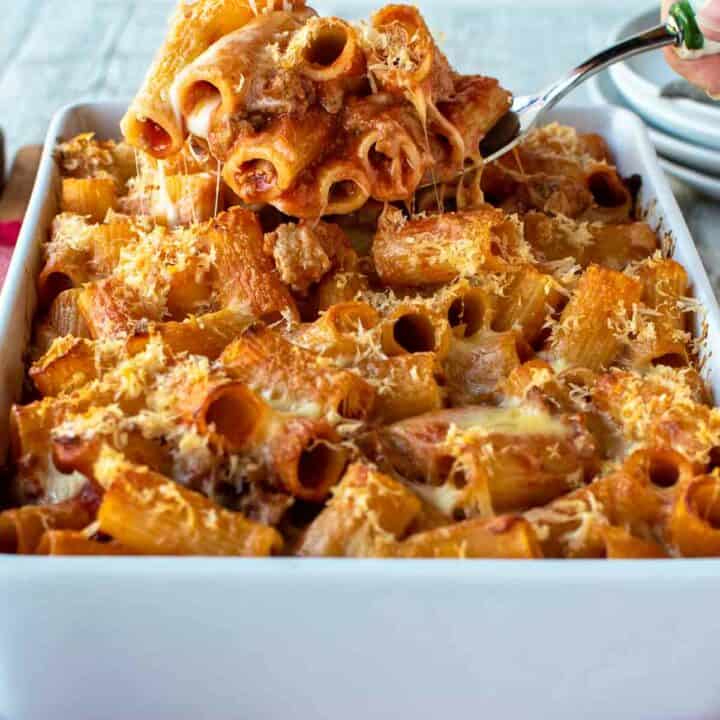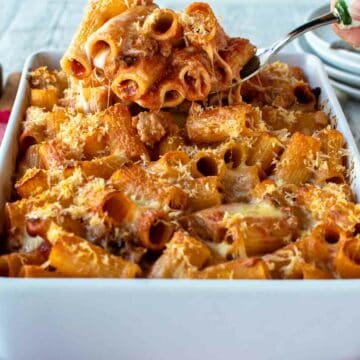 Pasta al Forno Recipe
A classic Italian pasta bake with homemade meat sauce and two tasty cheeses that is creamy, cheesy and perfectly oozy.
Print
Pin
Rate
Ingredients
1

pound

rigatoni

500 grams

1

tablespoon

olive oil

½

onion

finely chopped

8

oz

ground pork

225 grams

6

oz

Italian sausage

170 grams

3

cups

tomato puree (passata)

750mls

1

teaspoon

salt

(or to taste) extra for salting pasta cooking water

½

teaspoon

freshly ground black pepper

12

ounces

mozzarella cheese

350 grams

2

ounces

Pecorino Romano cheese

60 grams
Instructions
Heat the olive oil in a large skillet over medium heat. Add finely chopped onion and a pinch of salt.

Fry for 5 minutes or until just taking on some color.

Add ground pork and skinned, crumbled sausage.

Increase the heat and cook until browned.

When the meat has browned and is well cooked, add the tomato puree (passata), ½ cup water, salt and pepper.

Stir well and when the sauce starts bubbling, turn the heat down to low, partly cover with the lid and simmer for 30 minutes.

In the meantime, bring a large pot of water to the boil.

Salt well (2 or 3 tablespoons of salt) and add the rigatoni pasta.

Check the package instructions and drain the pasta 3 or 4 minutes before being completely cooked. Reserve 2 cups of the cooking water.

Now time to assemble! Firstly taste the meat sauce and adjust the salt if necessary.

Then add the pasta into the meat sauce along with ¾ of the mozzarella cheese, ¾ of Pecorino Romano cheese and some cooking water.

Mix together really well adding more cooking water if it looks dry. There should be sauce at the bottom of the dish. Most likely you'll need about 1 cup of water but it could be up to 1 ½ cups. This will keep the pasta moist and make it creamy.

Tip into a baking dish 8 x 12 inches (20x30cm/12 cup capacity) and cover with remaining cheeses.

Bake 350ºF/180ºC for 20-25 minutes.
Notes
Tips for Success
Be sure to salt the pasta cooking water very well.

Undercook the pasta because it will keep cooking in the oven. Boil for 3 minutes less than the package instructions.

Reserve some of the cooking water to use when combining the pasta, meat sauce and cheeses. 
Food Safety
Cook to a minimum temperature of 165 °F (74 °C).
Do not use the same utensils on cooked food, that previously touched raw meat.
Wash hands after touching raw meat.
Don't leave food sitting out at room temperature for extended periods.
Nutritional Information Per Serving
Calories:
772
kcal
|
Carbohydrates:
70
g
|
Protein:
37
g
|
Fat:
38
g
|
Saturated Fat:
16
g
|
Polyunsaturated Fat:
4
g
|
Monounsaturated Fat:
15
g
|
Trans Fat:
0.1
g
|
Cholesterol:
103
mg
|
Sodium:
1344
mg
|
Potassium:
950
mg
|
Fiber:
5
g
|
Sugar:
9
g
|
Vitamin A:
1089
IU
|
Vitamin C:
15
mg
|
Calcium:
437
mg
|
Iron:
4
mg
Nutritional Disclaimer
Nutritional information is an estimate provided by an online nutrition calculator. For accurate results, it is recommended that the nutritional information be calculated based on the ingredients and brands you use.